Who We Are and What We Do

Lowry Strings is an adult string orchestra based in the Salford Greater Manchester area of the UK. The group was formed in the 1970s by Colin Green, the musical director, due to interest from parents waiting for their children during violin lessons.
After running for 15 years, Lowry Strings lapsed and was restarted in about 1990 as part of the Salford Music Service. When Colin left the service in 1999, he continued with the group and it was officially launched as the The Lowry String Group.
Following a grant from the National Lottery in 2002, a beginner's section was formed and new players were able to progress from that section to join the main ensemble.
The Lowry String Group continues to function as a string ensemble offering learning opportunities to adult learners and returners and entertainment for their friends and family for the benefit of the community and local charities.
Founder of Lowry Strings
To glean the contribution that Colin Green (RIP) made to Lowry Strings, Salford and further afield, please click here to see the epitaphs made at his memorial concert.
A couple of Historical Pictures of Lowry Strings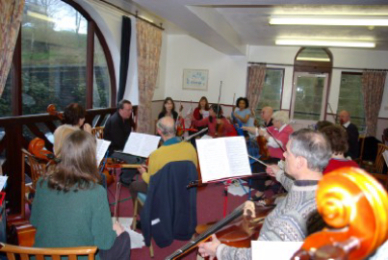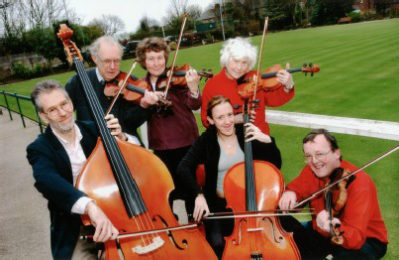 Governance
The Lowry String Group is served by a committee given under the provision of a Constitution. However in the day to day running of the group we want to keep everything as friendly and informal as possible.
Charities We Recently Supported
December 2018 - Urban Outreach, Bolton - Winter Watch
June 2018 - Action Aid
December 2017 - The Lullaby Trust
June 2017 - Alzheimer's Society
December 2016 - The Running Charity, Manchester
July 2016 - The MS Society, Warrington Branch
December 2015 - Samaritans UK, Stockport Branch
June 2015 - Nepal Earthquake disaster fund
December 2014 - The Stroke Association
June 2014 - Cancer Research UK
Charities We HaveSupported In Previous Years
Child flight - Water Aid - Sight Savers - St Ann's Hospice - Hurdles - RNLI - Derian House - Meningitis Trust
"Lowry strings" is the popular name given to The Lowry String Group
.