Strings and Stuff
This page is dedicated to things that would be of interest to string players especially and other things musical for public consumption. It's a kind of informal positive review page of things that members and the general public would find helpful, simulating or benignly amusing. We won't host any negative review or story as that's not in the spirit of what we generally do.
NB - Please note that this is not a commercial advertising space. Alerts for local concerts (ie. north-west England) are fine, but these would be posted on the Links page. Contributions are published here in good faith. Lowry Strings does not necessarily agree with and will not be held responsible for views and stories published here.
If you need a mute we suggest you buy a Tourte. It sits gently behind your bridge and is easy to slide into position in almost an instant. You can also get one with a magnet-stay to stop it slipping towards the bridge if you make dramatic movements while playing.
Some more expensive on-string types that grip the strings behind the bridge have been known to alter the your instrument's sound production and/or tear the string lapping where they sit.
Anonymous
This example shows a Tourte mute with a handmade tiny pair of strip-magnets (2mm) superglued to the mute and the tailpiece to avoid the wight of a full magnet clip sitting on the tailpiece.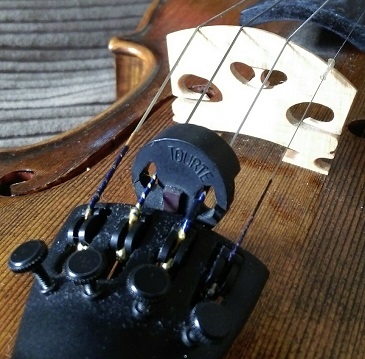 Excellent set of online and hard copy resources for the late starter on the violin
Violinworks is a "comprehensive method for the older beginer" written and produced by Ros Stephens. Volume 2 was out in December 2016.
The hardcopy and online package is rich in advice and material for an enjoyable experience of learning the violin late with a sympatheticchoice of pieces to set you on your learning journey.
Anonymous, Manchester
Best rosin ever?
Scold me for shooting my mouth off, but I did ask my local violin shop for the very best rosin that they could recommend. So after a bit of banter I bought a cake of Andrea - Cremona in America rosin for Solo Violin.
Must say ... it's the best rosin I've used in my 40+ years of playing. It's low-dust and has a good grip but doesn't produce a rough/scratchy sound. After a few more (sparing) swipes - different days of course - the grip seems to smooth out, giving my bow a more robust grip, yet producing a tone that is fuller and sweeter somehow. Hm... I like mysteries!
Andrea C-in-A makes different grades of rosin for all the string instruments. So, though you might get it slightlycheaper on the internet, please try to support your local violin shops. I'm grateful to mine for introducing it to me as I probably wouldn't have wanted to blind pay at about £29 for a cake of rosin I'd never tried.
There's also a good review of it in "The Strad" January 2010.
Peter Farnbank, Blackpool (May 2015)
New Cello Strings
I decided at last to replace my cello strings. I bought a full set of strings, described as high quality, for about £15 from Amazon - two snapped straight away! I contacted my local music shop and they recommended Thomastik Dominant cello strings. I can really notice the richness of tone and it was definitely worth spending a little bit more.
Anonymous, Manchester
How cellists suffer!! (An unusual viola joke)
In a college canteen one young student asked a mature music student, "Oh, so, what do you play?
"The cello."
"Isn't that a big violin?" she enquired.
The mature student who was known for his dry avuncular humour, flicked an eyebrow and said, "Well, I suppose you could call it that, yeah."
"Erm.... they come in different sizes, don't they?
"Well yes, suppose so. You can get a half-size or three-quarter size one."
"Oh, my friend tells me she has a 16 inch one."
The penny dropped, and the mature student wondered whether he should run a lecture there and then about cellos and violas, but decided not to, "Well that would be kind of medium-size, I suppose."
"Erm... isn't it a bit uncomfortable to play such a big thing under your chin? I mean my friend is only a size 8 girl...."
"Well, yeah of course, if you don't retract the end-pin!!"
Anonymous, Hampshire
Tune up - or is it down ...?
At the MD's request for a tune-up the leader of the local college string ensemble poised his violin and struck a proud A. But somehow the peg slipped, and a horrendous glissando ensued. The orchestra collapsed in guffaws!
With all eyes glued on him, the MD lifted one eyebrow, wafted his baton in the air as if in a royal wave, and said dryly, "Erm..... just er... take your pick!"
Anonymous (Bournemouth)
Low Tension Helicore Strings
My viola suffered a split right on the llne running under the right foot of the bridge. After repairs it started to sound fuzzy as there are cleats along the mended crack, and the soundpost sits right under the split line, I noticed that my viola had become less responsive than it once was, and you needed to dig more with both hands to get a clearer tone.
A friend suggested D'Addario Helicore LOW TENSION strings. I bought a set (around £60). This makes it much easier to play and there is no loss of sound. I especially like Helicores because of the slightly narrower diameter of each string, which I have found on both violin and viola to add to bow responsiveness and articulation.
I'm delighted with the low tension strings. They seem to have solved my problem with my beloved viola.
Anonymous, Lancashire
Franckly Speaking.....!
The morning after my violin recital in a local community centre a charming young boy - who must be about 8 or 9 years of age - came up to me after church and said, "I liked the last piece you played last night!"
Casting my mind quickly back to the last movement of the famous Franck Sonata for Piano and Violin, I thanked him, but he hadn't finished.
"Mind you," said the young budding critic, "you and the pianist - you weren't together, you know!" He shook his head cocking a disapproving look from the corner of his eye. "No, somehow you were always behind the piano!"
I opened my mouth to try to explain "canon" to him, but... he interrupted, "I mean, even when the tune came back at the end, you weren't together even then!!!"
My mouth hung open - speechless as I was - not knowing whether to laugh or cry.
He pressed home his point. "Mind you," he smiled sticking up a thumb, "you did finish together! So, well done !!!"
Here is a clip of the famous Franck on YouTube - played impeccably !!
Anonymous, Hampshire
"Lowry Strings" is the popular name given to The Lowry String Group.